We offer forward-thinking expertise to address where you are today, integrating new technology with legacy systems, but also to prepare for the future. We provide a comprehensive solutions of LAN/WAN Design and Implementation.
Services that we provide include Project Management and Design, Installation and also Maintenance. With many years of experience, we can help you install your solutions to meet your budget and business requirements.
LAN/WAN Design & Implementation
We provide consulting, design and planning services to help develop business models, design networks and take over complete business processes for our Clients. We also provide architecture, design, implementation planning, rapid integration, project management, product planning and financial modeling for your network infrastructure. We help you securely integrate and support data, voice and video networks, design intelligent network infrastructures, leverage new technologies and quickly seize opportunity in order to connect, run and grow your business.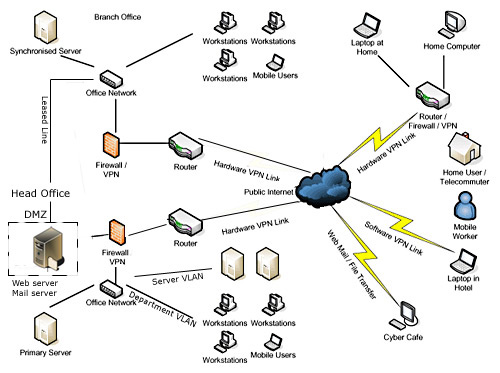 Fundamental Research
A competent network design is the foundation upon which all successful network implementations are built. The applications that a state of the art IP network supports have become increasingly diverse in nature. Along with traditional data applications, IP has become a transport mechanism for real-time applications such as voice, video and multimedia.
IP Addressing Planning
The IP addressing plan is the foundation upon which a successful logical design is built. We formulate a scalable IP addressing plan that can support the network as it grows. The use and importance of key tools such as variable length subnet masking and route summarization are utilized. Choosing the appropriate routing protocol is equally critical. The parameters used to evaluate the suitability of a routing protocol will be explored and discussed.
Designing Wide Area Network
The wide area network (WAN) is the single biggest contributor to a corporate network's cost of ownership. Therefore this is the area where the cost versus performance trade-off is most pronounced and most critical. We will explores the various alternatives that must be evaluated when choosing and designing a WAN infrastructure. Also the different topological and technological options in terms of how they relate to the fundamental WAN design goals.
LAN Design
The considerations behind the deployment of virtual LANs (VLANs) will be explored along with the issues faced when planning and configuring VLANs. We also facilitate techniques for ensuring a scalable and resilient network design, including deployment of mobile and wireless LAN. The Spanning Tree Protocol has to be addressed on how it can be optimized with growing switched network. This link management protocol provides path redundancy while preventing undesirable loops in the network